Selectboard
The Selectboard meets every 1st and 3rd Tuesday of the month in the Willey Building Meeting Room (unless otherwise posted).
Zoom Meeting Link: https://us02web.zoom.us/j/6331160345
Latest Meeting Agenda: 11/14/23
Latest Meeting Minutes: 11/27/23 Budget Meeting
Latest Meeting Audio Recording: 12/04/23 Budget Meeting & the last 12/05/23 SB Meeting audio recording is below.
Selectboard Members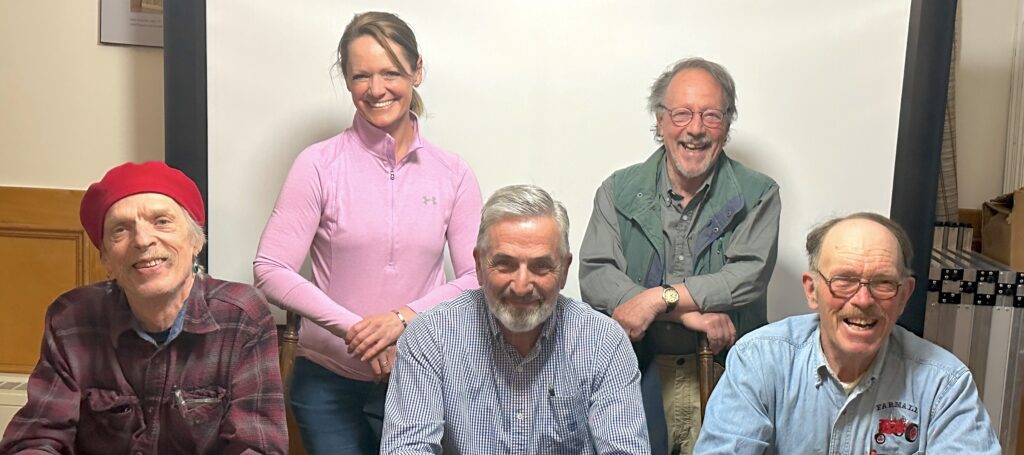 Michael Hogan, Chair
802-563-2827
Fred Ducharme, Vice Chair
802-563-2102
RD Eno
802-563-2486
Walter (Skip) Bothfeld, Jr.
802-563-2715
Karen Larsen
802-563-2294
Email: [email protected]
Responsibilities of the Selectboard (From VLCT Selectboard Handbook)

Selectpersons are responsible for general supervision of the affairs of town and must cause to be performed all duties required of the town not committed by law to the care of any particular officer.

The Selectboard may enact ordinances and rules in many areas including traffic regulation, regulating nuisances, managing solid waste, dogs and recreation, and establishing bike paths.
The Selectboard warns all town meetings and specifies business to be conducted at the meeting, including proposing an annual budget. If the town does not set the tax rate, the Selectboard must set a tax rate that will raise the specific amount voted at town meeting.
The Selectboard is responsible for hiring, directing, and firing almost all town employees unless the town has a Town Manager form of government; for setting salaries if voters do no do so at town meeting, and for establishing and enforcing personnel policies.
The Selectboard must authorize all town expenditures by signing orders for the treasurer to draw town funds.
The Selectboard supervises the expenditure of the highway fund and has charge of keeping town highways in repair. It also is responsible for laying out, classifying and discontinuing town roads.
The Selectboard is responsible for animal control.
The Selectboard may borrow money for periods of less than a year in anticipation of taxes.
The Selectboard must fill all town vacancies until an election is held.
The Selectboard may license many operations within the town (e.g., liquor sales, restaurants,
junkyards and entertainment).
The Selectboard appoints several minor town offices (e.g., fence viewers, pound keepers,
inspector of lumber and tree warden).
The Selectboard appoints and removes planning commissioners unless the town has voted to elect them. In "rural towns," selectpersons serve as ex officio planning commission members. A "rural town" is a town with a population of less than 2,500 or a town with a population of at least 2,500 but less than 5,000 which has voted by Australian ballot to be considered a rural town. The selectboard adopts the town plan unless the town votes to adopt it by Australian ballot. It also holds public hearings on proposed zoning bylaws and may, in some circumstances, adopt zoning bylaws.
The Selectboard appoints and may remove a town manager when a town has voted to adopt such form of government.
The Selectboard purchases all insurance for the town.
The Selectboard requires certain town officers to obtain a bond and sets the amount necessary.
Selectboard members serve as members of the Board of Civil Authority.

Audio Recordings

07/12/2023 Selectboard Emergency Flood Mtg

07/28/2023 (Emergency Meeting – CFD Building)

08/30/2023 Special Meeting

11/07/23 – Budget Meeting and Selectboard Meeting

11/14/23 – Budget Meeting and Selectboard Meeting

11/27/23 – Budget Meeting

12/04/23 – Budget Meeting